Ok, so I know some of you have been suspecting, and we can now let you in our our secret. We are going to have another baby!! Finally! Two years, one miscarriage, and several fertility tests later, we are pregnant! Thankfully, we did not have to use any fertility treatments, as we became pregnant right after all of our tests results came in (which were all clear, by the way). Thank the Lord!
I am sorry we kept everyone in the dark for so long, but after last year's miscarriage, well, that was tough for me. I hated having to tell our loved ones, those that were so happy for us when they found out we were pregnant, that we had lost the baby. I think that was just as hard as the loss itself. I appreciated all the love and support we received after that, but I just didn't want to do that to you all again! So, we decided to wait. Boy, was that so hard!! Every time someone asked me, "So, what's new?" I just wanted to scream from the mountain tops that we're going to have another baby! But alas, I usually replied with "Oh, not much. Same ole, same ole." Which was MOSTLY true. Sorry about that!
So, here's the deets. We are due on January 7, 2010. Yes, 2010! Can you believe it?? But, some of you know that while I was pregnant with MJ, I acquired Gestational Diabetes, and my blood pressure became a big issue in the end. Because of those 2 factors, I was induced early, and MJ came 10 days before his due date. So, there is a pretty good chance that may all happen again, and this baby will be born before the year is done! Can you say tax deduction? LOL!
I know that probably 90% of you want us to have a girl. I am sorry to be a stick in the mud, but I have always been convinced that we were going to have 2 boys. Not sure why, but that is what I have always felt. I just recently have taken an over-the-counter gender prediction test, and it said....BOY! Sorry, folks! Now, I am not so naive as to place bets on that result, but that is still my gut feeling. If I am wrong, great! If not, great! We just want a healthy baby, of course! But I don't think I'm wrong. I am guessing we will find out in August, when I am around 20 weeks along. I will let you all say, "I told you so!" if I am wrong at that time!
I had an ultrasound at 8 weeks. Everything looked great! The heart rate was at 159. Nice and strong!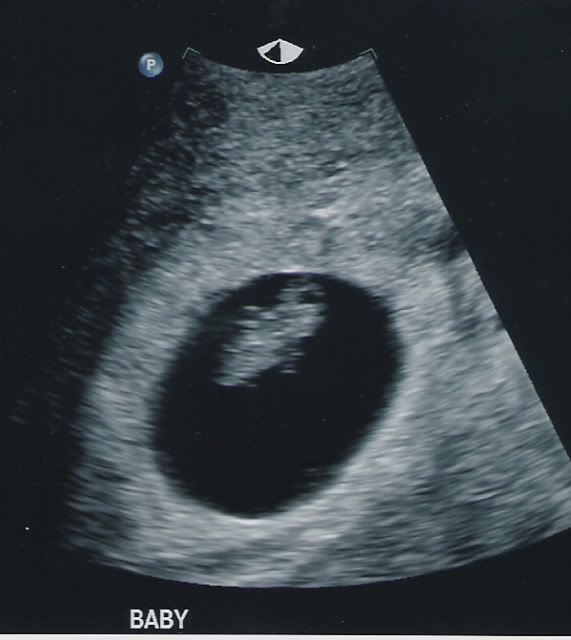 Not much to see yet, but there is definitely a baby in there! ONE baby!
I also rented a doppler, which allows me to hear the baby's heart beat at home. It is just like the one they use at the Dr.'s office. Since my first appointment wasn't until I was over 12 weeks, this helped me to not be a nervous wreck! I have been getting readings of the heart rate anywhere between 147-167 bpm.
So far, Michael has been very receptive to the idea of having a baby brother or sister. He keeps changing his mind as to which he would rather have though. And he has been very helpful with name choices. They all seem to be gender neutral, which is great! Some of the names he has suggested have been "Stinky Garbage", "Tree", and "Furblomp". Catchy, huh? I just love that kid!!
Ok, so that is all we know right now. Again, sorry we have kept it to ourselves this long, but I hope you understand! Love to you all!!