Day 4 What They Wear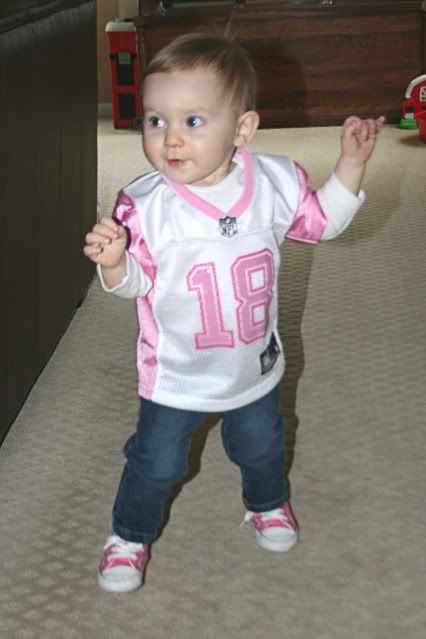 Since it was Super Bowl Sunday, I decked out Allie in her football jersey. Yes, it is a Colts jersey, but since I do not care for either team in the big game, we are supporting the team that should have been there! Ha ha! Besides, this is probably the last time she will have the oppourtunity to wear it. It certainly won't fit her next year!
Also, I love to put her in those pink high top Chucks! Any opportunity I have to put them on her, I do. I love them! Plus she makes them look even cuter, doncha think?
Day 5: Love to hate
How can I say that I hate anything about a sweet little baby girl? I love being a mother, and everything that goes along with it. But, you see that snot dripping from her nose there? Well, she has a cold. I hate when my babies get colds. They make my sweeties miserable, and I hate the fits of rage that follow when I have to wipe their little sore noses.
I love this photo of Allie, if it weren't for that snot. I especially love the catch lights in her eyes. I mean, sure I can probably photoshop that snot out, but dang it! My poor baby!
That may not be quite what was meant by this theme for the day, but that is my take.
Day 6: Who THEY love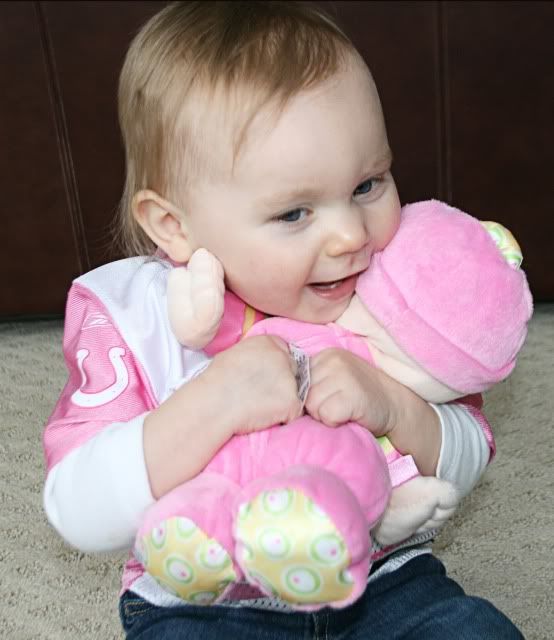 Of course Allison loves her family. But she also loves her babies. This one she seems to have attached to a little bit more than the others. I think it is because it is soft and cuddly, and also because there is a rattle in the head.
Day 7: Generations
This was obviously taken a a while back - a year ago, actually. But it is perfect for the theme for this day. This is the four generations of "Marie". This is my mom, my grandma, Allison, and my sister. They all have the same middle name of Marie.
I have to admit that I am not following this class as well as I should be. I mean, it is supposed to be a class. She gives instructions on techniques, and gives tips on how to set up your shot for the day. But I have been lazy, and have been concentrating more on the theme than on the technical side. However, I am saving her e-mails, and will keep them to refer to later. I am definitely going to go back and try some different things with metering,
See ya later for Day 8!